10:41 PM, June 19 2021
1,000 years of local history in ten 2ft x 3ft tapestry panels
The
Rochford District Heritage Tapestry
was created over a period of 20 months through a community project involving 90 adults and 80 children. It covers 1,000 years of local history and is displayed in ten tapestry panels, each measuring over 2ft high by 3ft wide. Here is a link to the tapestry section of our website:
https://www.rochfordtown.com/heritage-tapestry
The planned exhibition last year was postponed due to Covid but is now rescheduled for 27th July to 7th Aug 2021 at Ashingdon Elim Church, 535 Ashingdon Road, Rochford SS4 3HE. The exhibition runs for 2 weeks so we're hoping that lots of people in the area will come along.
Tickets for the exhibition can be pre-booked via Eventbrite for a 45 minute viewing slot. This approach will help us to maintain good social distancing measures. Please can you pass on the booking details to your contacts, friends, family, social media, etc so that it is publicised as widely as possible.
Heritage Tapestry Community Project – Exhibition from Tues 27th July to Sat 7th Aug
Last year saw this community project completing the Rochford District Heritage Tapestry but the exhibition had to be postponed due to Covid. However, we are very pleased to announce a 2-week Exhibition of all ten 2ft by 3ft framed panels, together with fabulous knitted items, accompanying drawings, historical information and children's activities.
This is now scheduled to be held at Ashingdon Elim church from Tuesday 27th July to Saturday 7th August. The address is 535 Ashingdon Road, Rochford SS4 3HE.
Tapestry Taster: As a taster to promote the exhibition, three panels are going to be out on show from 21st June for about four weeks. There will be one panel at Holy Trinity Church, Rayleigh, a second at St. Andrews Church, Ashingdon and a third in Rochford Library. After the exhibition, we would be very pleased to arrange for any tapestry panels to be set up in other venues that are open to the public.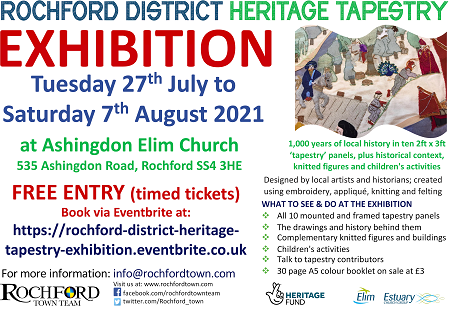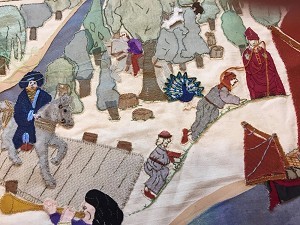 < Back to the news