11:00 AM, February 27 2022
1,000 years of local history in ten 2ft x 3ft tapestry panels
The Rochford District Heritage Tapestry was created over a period of 20 months through a community project involving 90 adults and 80 children. It covers 1000 years of local history and is displayed in ten tapestry panels, each measuring over 2ft high by 3ft wide. Here is the link to the tapestry section of our website: https://www.rochfordtown.com/heritage-tapestry and here is a link to a brief video from one of the previous exhibitions: https://www.youtube.com/watch?v=l05skU0FV0I
Following highly successful stints at Ashingdon Elim Church, Rayleigh Town Museum, Rochford Parish Rooms, Barling Magna Parish Hall and Scott's of Southend garden centre in Sutton, another full exhibition at Hockley & Hawkwell Methodist Church will include all ten 2ft by 3ft framed panels, fabulous knitted items, historical context and artists' drawings.
The exhibition is open 10am - 2pm on Tuesday 22nd to Friday 25th, then Monday 28th to Thursday 31st March.
Free entry. Booking is not required.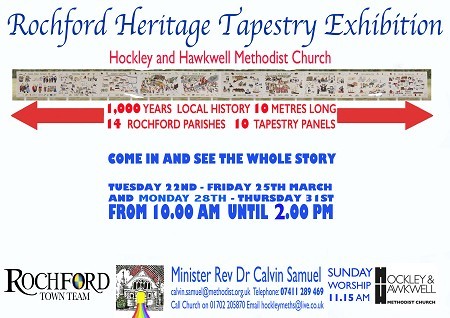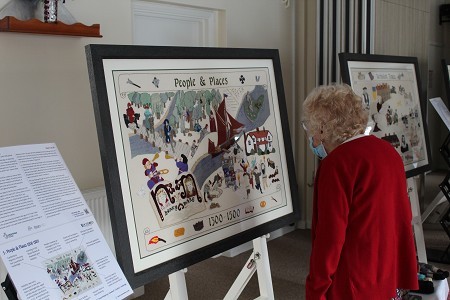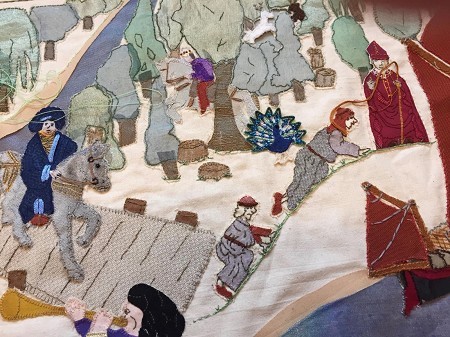 < Back to the news