11:44 AM, October 21 2020
"An innovative community project"
The success of the Rochford District Heritage Tapestry has been celebrated in an article in the Leigh Times, which notes the inclusion of events covering all 14 parishes and the district's rich history over 1000 years.
The article highlights the brilliant adaptability of the community to complete the tapestry in lockdown, as people worked from home instead.
Sarah Johnson, Tapestry Panel Lead, said: "the continued enthusiasm and commitment on this project...has been inspiring", while Geoff Durham, Project manager and Chair of Rochford Town Team, praised the project as "a truly uplifting experience."
View the article in full online and find out more about each panel, and the tapestry's story, on our dedicated webpages.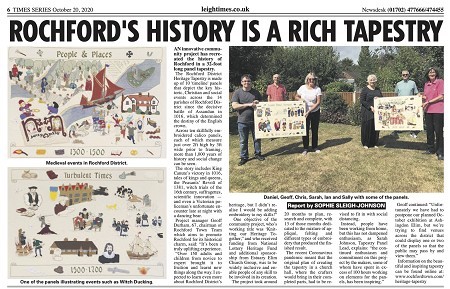 < Back to the news