6:59 PM, August 28 2017
Friday 22nd to Saturday 23rd September at The Old House:17 South Street, Rochford SS4 1BL
Rochford Heritage Trail - Old House & Historic Rochford Guided Tours
Friday 22nd to Saturday 23rd September at The Old House:17 South Street, Rochford SS4 1BL
Separate Guided Tours of The Old House and of Historic Rochford from 10am-noon on Friday 22nd and 10am-2pm on Saturday 23rd September, all starting at The Old House.
In-costume tour guides. Turn up on the day or prebook some tours online now at Eventbrite:
https://rochford-old-house-tours.eventbrite.co.uk for the Old House tours.

https://historic-rochford-tour.eventbrite.co.uk for Historic Rochford tours.
Heritage displays include:
Rochford Heritage Trail and mobile app
Rochford Hundred Historical Society
Rochford District Archives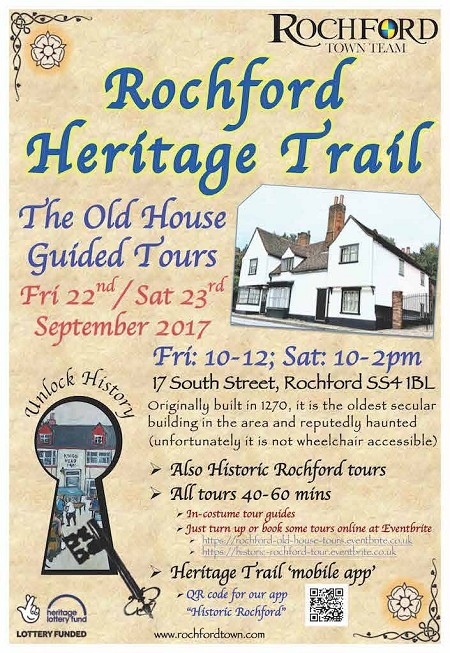 < Back to the news