40 volunteers work on historic tapestry
More than 40 enthusiastic volunteers have been working on a heritage tapestry celebrating 1,000 years from across the Rochford District, which will be displayed as part of next year's 'Discover 2020 Festival.'
The community project, called 'Rochford District Tapestry: Knitting Our Heritage Together,' is making rapid progress following a £10,000 National Lottery Heritage Fund grant along with sponsorship from Elim Estuary Church Group.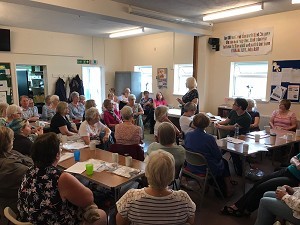 Organised by Rochford Town Team, it has inspired groups and individuals from across the 14 parishes to take part, working to recreate scenes designed by local artists and historians. Sarah Johnson, who is co-ordinating the panel creation, estimates over 70 people are receiving updates via the tapestry email distribution list, with over 40 people actively involved in the tapestry creation.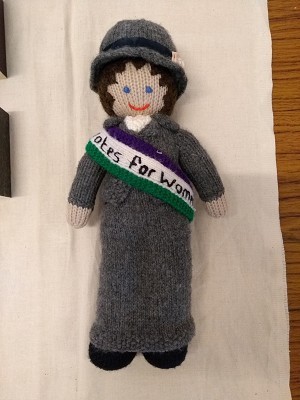 Caroll Martin, whose forte is knitting, had the idea of making knitted dolls to enable children in particular to explore the tapestry by trying to match the doll to the correct character on the panels.
The latest panel, 'Markets and Maritime', features markets and fairs from Rayleigh, Rochford, Great Wakering and Shopland, demonstrating how towns grew around marketplaces with initial stalls developing into static shacks; the forerunners to today's shops. There are also references to the district's history of boat building, fishing, oyster catching, ale houses, windmills, watermills and more.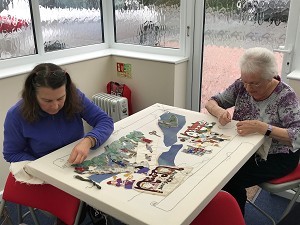 The completed tapestry will consist of ten different panels, each one metre long, and will be interpreted using a wide range of techniques, including embroidery, appliqué, knitting and felting.
The following panels have been designed so far:
Saxons, Danes and Normans
Historic Churches
Markets and Maritime
People and Places
Law and Order
Social and Christian Change
Rochford District Council's Strategic Director, Angela Hutchings, said: "This is a project which has truly galvanised the Rochford community, and I am incredibly impressed by the standard of the work which has been produced at this early stage.
"The finished project will be exhibited as part of next year's event, 'Discover 2020; 200 years of HMS Beagle', which will celebrate our district's links with the prestigious ship which carried Charles Darwin on his travels. The tapestry will then be available for local groups to display, enabling everyone to experience our rich and colourful heritage."
Geoff Durham, chair of Rochford Town Team, said: "As this is a District-wide Community Project, we don't want it to be Rochford-Hockley-Rayleigh centric. We have been very pleased to see people involved from most of the District's parishes but would like to see more people join in, especially from Foulness, Paglesham, Rawreth, Hullbridge and Stambridge areas."
The next workshop will be held at the Ashingdon Elim Church, Clifton Road, Ashingdon, from 10am to 1pm on 14 December and all are welcome to come along to see the progress or get involved.Anyone interested in participating, whatever their ability, can email 2020tapestry@gmail.com or leave contact details at Rochford District Council (01702 318111).
Meet a few volunteers:
Olivia Carus is an artist from Leigh who became involved in this project when her dad saw the original Facebook post. She has never done this sort of thing before but was interested in volunteering. She is sketching a panel about parish perspectives and is looking to incorporate as much as possible about the history which characterises each parish. She says she has learned so much about local history and also learned new skills as an artist. [twitter @oliviacarus]
Artist Daniel Roche from Basildon has worked with Geoff Durham of the Rochford Town Team and historians Ian Yearsley and Roger Hill to develop the brief for the Saxons and Social Change panels. His style is to use cartoon visual design and humour to impart historical accuracy with maximum appeal and accessibility. He is keen to point out that his disability (he has Asperger's Syndrome) does not hold him back and hopes that it inspires others to get involved. Daniel is "blown away" to see how his designs have been interpreted by those sewing. His particular favourite is the representation of Inspector Chase, checking on the overnight sleepers in Rochford awaiting the London coach in the 1890's, who disturbed a dancing bear being taken to a local fair.
Paulette Clare has lived in Rochford for 30 years and is now retired. She didn't know anyone when she first became involved with the project, but she says that everyone has been so friendly. She had done some sewing but knitting is her passion and so she decided to use her skills to help bring another dimension to the tapestry project. She designs and makes knitted dolls to replicate the characters on the panels. Each doll takes about three days to make. She uses a basic pattern, but the design and details are her own creativity.
Chris Guest is a retired teacher from Ashingdon primary school. She actually trained as a needlework teacher but never got to use her skills in a community project until now. She is coordinating the tapestry creation with Sarah and has been working with pupils at Primary Academies in Hockley and Ashingdon to make icons in felt which will be included in the panels. She is working with years 4, 5 and 6 – teaching them to learn new skills whilst discussing the history itself. She has plans to work with other primary schools who wish to get involved, as well as in residential care homes.
About the National Lottery Heritage Fund
Using money raised by the National Lottery, we Inspire, lead and resource the UK's heritage to create positive and lasting change for people and communities, now and in the future.
www.heritagefund.org.uk.
Follow @HeritageFundUK on Twitter, Facebook and Instagram and use #NationalLotteryHeritageFund
About the Elim Estuary Church Group
Estuary Elim are three Essex-based Elim Pentecostal Churches in Ashingdon, Rayleigh & Southend-on- Sea, with a shared leadership team. We are a group of people responding to the love of God and the life-changing message of Jesus Christ. We are passionate about connecting with and serving people in our communities.
www.estuaryelim.church