10:51 AM, October 1 2020
The story, progress and completion of the Rochford District Heritage Tapestry is discussed and celebrated.
Geoff Durham, Sarah Johnson, Sally Chinea (Artistic Design Lead) and Ian Yearsley (Historical Lead) tell the story of the Rochford District Heritage Tapestry.
Around 90 adults and 80 children were involved in the creation of the tapestry, which has taken 20 months to complete. All 14 parishes in the district are represented, through a number of panels arranged by theme and (broadly) chronologically.
Sarah Johnson, Tapestry Panel Lead, said "the tapestry itself is an amazing vehicle for getting people talking about what happened, getting them involved. We've created an amazing legacy, it's been such a community project."
Geoff Durham, Project Manager and Chair of Rochford Town Team, said: "It's been an amazing experience, working with lots of talented people and coming up with something that will be there for the future, for future generations to learn about the history."
Watch the full video on Twitter and read more about each tapestry panel on our dedicated webpages.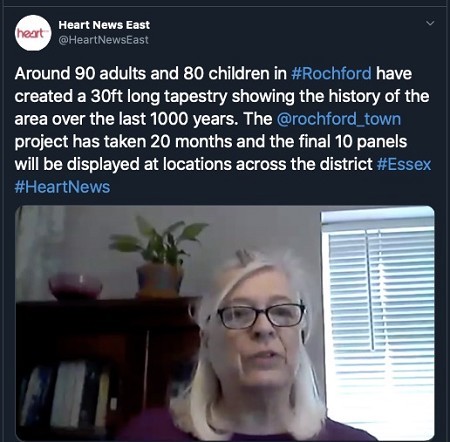 < Back to the news