4:28 PM, October 1 2020
Celebrating the completion of the Rochford District Heritage Tapestry
The Rochford District Heritage Tapestry has been featured in the Daily Mail, celebrating its completion and the hard work of the community. The article notes that the tapestry features key events in history from all 14 parishes of Rochford, with designs created using appliqué, felting and embroidery.
The article also acknowledges that the tapestry was completed during lockdown and features a rainbow, the symbol that appeared all over the country during the coronavirus pandemic to bring hope.
Geoff Durham, Chair of the Rochford Town Team and Project Manager, said, "It's been a truly uplifting experience."
View the article in full on the Daily Mail website.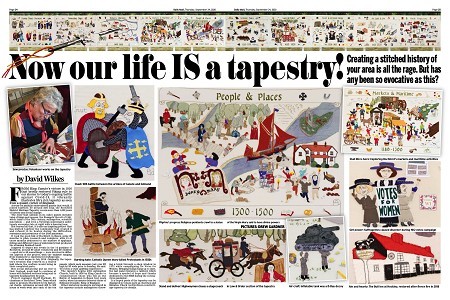 < Back to the news