August 2021 Tapestry Exhibition: Rochford District Heritage Tapestry covering 1,000 years of local history
The
Rochford District Heritage Tapestry
was created over a period of 20 months through a community project involving 90 adults and 80 children. It covers 1,000 years of local history and is displayed in ten tapestry panels, each measuring over 2ft high by 3ft wide. Here is a link to the tapestry section of our website:
https://www.rochfordtown.com/heritage-tapestry
The planned exhibition last year was postponed due to Covid but was rescheduled for 27th July to 7th Aug 2021 at Ashingdon Elim Church, 535 Ashingdon Road, Rochford SS4 3HE. The exhibition included all ten 2ft by 3ft framed panels, together with fabulous knitted items, accompanying drawings, historical information and children's activities.
Here is a brief video introduction from the opening exhibition:
Over 700 people visited during the 2-week exhibition. Below are some example comments from the exhibition: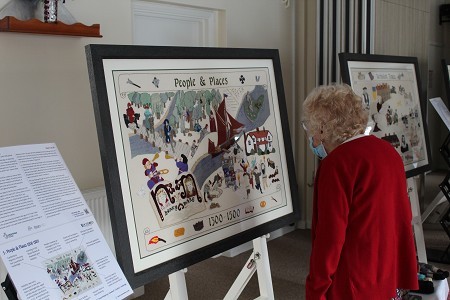 Back to Memory Lane